It is always hump day on the Schlosser farm.
Mayhem, a one-year-old white Bactrian camel who lives on a farm outside of Vernon, has piqued the attention of passersby.
His owners, Alex Schlosser and Alysha Bartlett said that Mayhem has been a joyful addition to their family and they love watching the social camel interact with new people.
The goofy and gangly camel is currently shedding his winter coat, and looks a little scruffy for the time being, explained Bartlett.
"Rest assured he will be back to his majestic self this fall," said Bartlett.
While Mayhem looks big and weighs 1,000 lbs, "he is still a baby, growing like a weed."
She explained said that when full grown at seven years old, her two-humped baby will weigh about 2,000 lbs.
Bartlett's fascination with camels and love of animals is not new. She has been in love with four-legged critters since she was a child and dreamed of one day welcoming one into her family.
Earlier this year, fiancees Schlosser and Bartlett, was on a trip to Alberta when they were invited to visit a farm that raises camels.
"We instantly fell in love and the rest is history."
Mayhem was brought to his new home in March and quickly became friends with the other farm animals, which includes horses, goats, dogs and cats.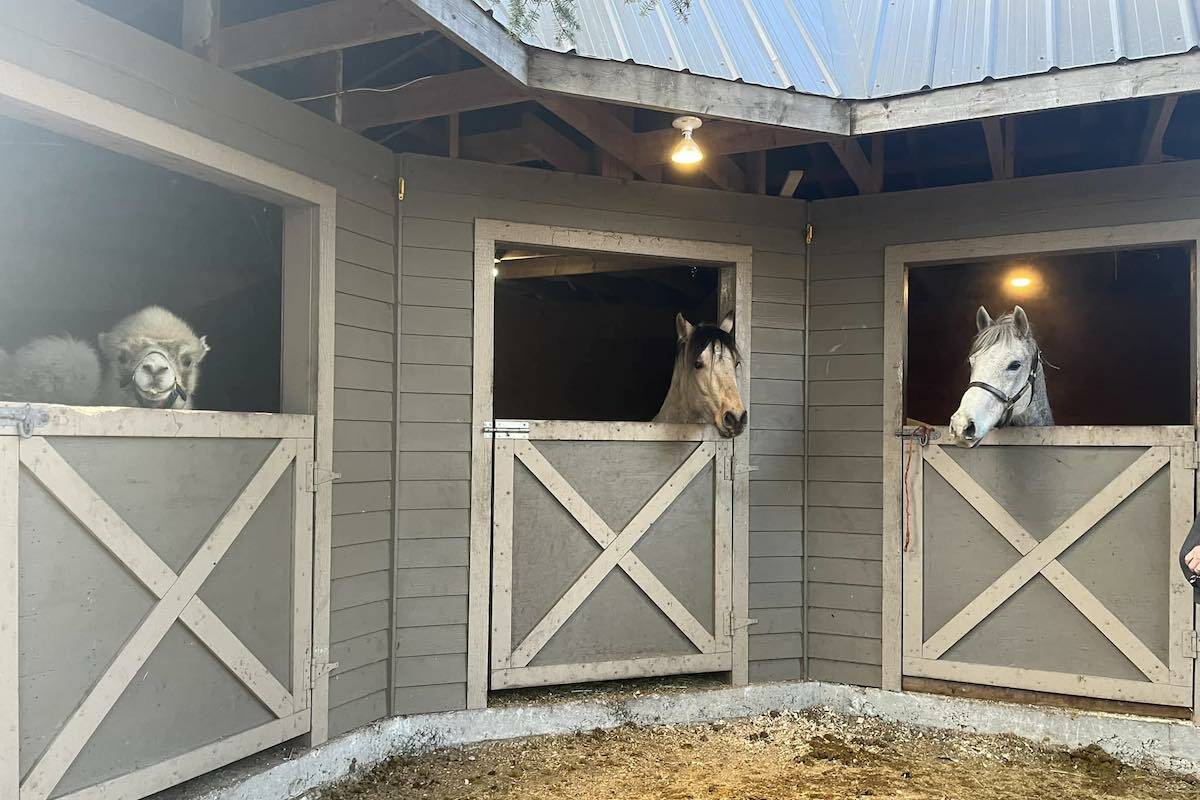 "Mayhem has brought our family such joy."
As cute as Mayhem is, Bartlett cautions people that owning a camel is a lot of work.
"Camels are a lifelong commitment as they can live up to 40 years."
Additionally, the unique animals have specific nutrient requirements.
Bartlett said that a healthy camel will have firm humps that stand straight up. Camels humps are made up of stored fat.
Bartlett said that after being bottle fed as a youngster, Mayhem started to develop a taste for willow branches and carrots.
When not in his pen he can be found foraging on the farm's grassy hill, causing mischief or playing with his four-legged friends and toys.
Bartlett said that he also loves to hang out with the family when they are in the yard and is quite a social guy.
"Mayhem is very inquisitive and enjoys meeting new people… We love meeting people and witnessing their interactions with our beloved boy."
Mayhem is currently working on his manners and is too young to be ridden.
In the future, Bartlett is hoping to partner with local businesses to raise money and give back to organizations in the Okanagan.
Bartlett also had a message for any loom weavers looking to take on a project, "I have an entire box of camel fur I'd love to be made into a blanket."
People can follow along with the Mayhem The Camel on TikTok.
---
@Rangers_mom
Jacqueline.Gelineau@kelownacapnews.com
Like us on Facebook and follow us on Twitter and subscribe to our daily and subscribe to our daily newsletter.