Shuswap Lake General Hospital is suffering from a chronic lack of funding and prioritization in the region that is threatening the ability to provide quality critical care.
Dr. Scott McKee, head of the internal medicine department at the Salmon Arm hospital, brought this candid message to city council on May 23.
He explained that he and five colleagues, all internists (physicians who specialize in the internal organs), are responsible for emergency and critical care at the hospital on a 24/7 basis. Critical care is what is done in the ICU – the intensive care unit, and it is in jeopardy, he said. The unit is also called the CCU – critical care, cardiac care or coronary care unit, or the HAU – high acuity unit.
McKee told council it's important as politicians that "you be aware we are at risk of losing not a minor bit of our service but a major bit of our service."
While critical care can live through lean times in terms of some resources, "there was a real concern last fall that we were going to lose this service altogether. And we had to begin to actually plan about what that would look like. How would it affect our other departments? How would it affect namely our operating rooms and our emergency rooms?"
Although he said things have eased slightly since autumn, he outlined the ongoing issues. And he asked for council's help.
"I'm not here today to ask you to help solve our operational problems or get yourself involved in the delivery of health care in Salmon Arm; that's clearly not the council's role."
McKee said his hope is that council could help to keep the health-care needs of the growing community at the forefront for Interior Health, the Ministry of Health and the board of the North Okanagan Columbia Shuswap Regional Hospital District.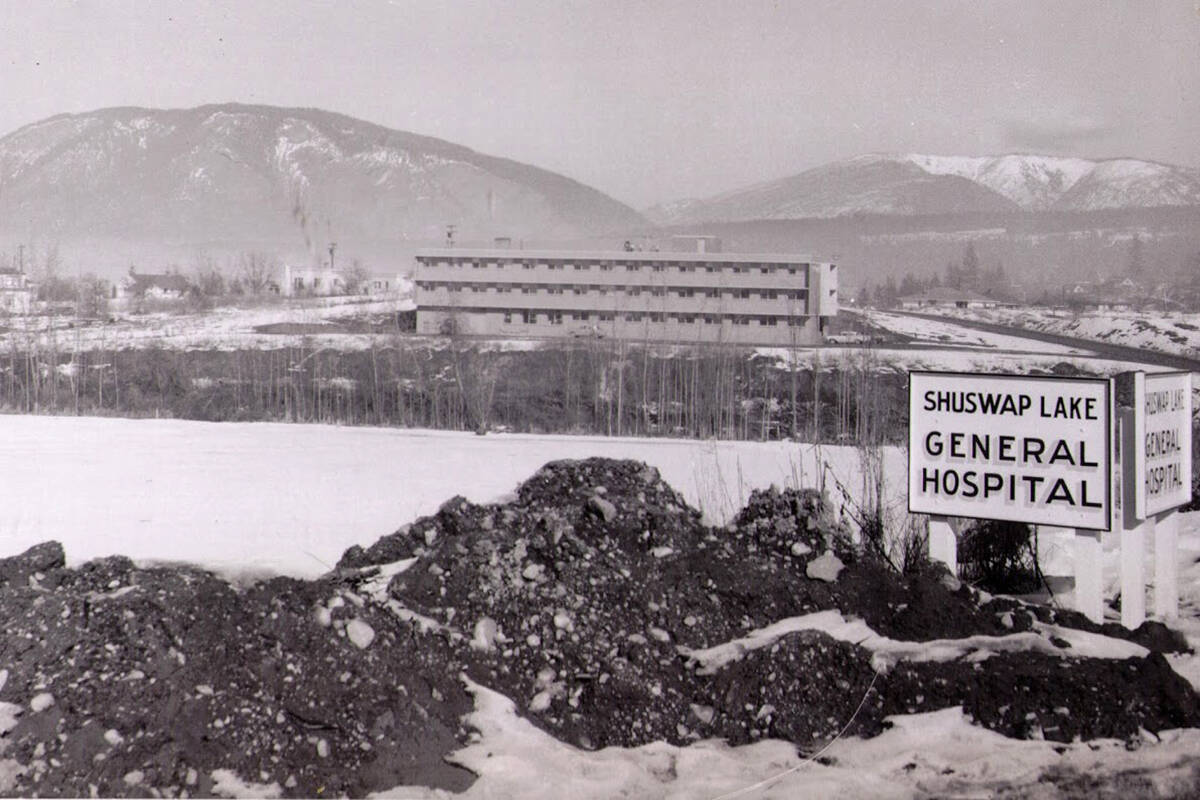 McKee noted Shuswap Lake General Hospital (SLGH) was built in 1958 and, in 2006, the emergency room was modernized and the radiology department was expanded. At the same time the renovations were completed, a master site utilization plan was submitted by the hospital's planning group with a growth plan and future hospital expansion. It was specifically for the critical care unit, the medical wards and the surgical operating rooms.
Post 2006, he said a few minor renovations were done "but there was really no attempt to adapt the hospital to our demographic growth, to our tourism infrastructure," he said, pointing out the hospital sees a lot of B.C., Alberta and Saskatchewan visitors.
"That site plan was never escalated, was never funded; we went to meetings once a year, we heard that it was there, that it was waiting to be prioritized… Other projects got accomplished and ours did not get any attention at all."
In 2017 the medical staff were concerned, he said, so a modernization plan that included primarily the operating rooms was funded outside of Interior Health. The initiative was led by an operating room doctor.
McKee pointed out that although his focus is mainly critical care, it is closely tied to the surgical service – "we need one another."
He said the plan cost about $60,000 and was submitted within a year to Interior Health capital planning for prioritization. The plan was for what was called the OR Redesign Project.
After a year, good news was received that the plan had been bumped up and was #3 on the region's capital priority list.
"That meant to us that things were going to happen imminently," McKee commented.
In 2020 the pandemic struck, but coming out of that in the summer of 2022, the hospital received news from Interior Health that it had been approved for $1 million for a formal planning phase of the OR Redesign Project from five years earlier. Medical staff leaders were notified, asked to plan time off to participate in the meetings, "and we thought this was going to be our opportunity."
Within a couple of months, McKee said, word was received the funding was being withdrawn.
"The bottom line was, we were told it's not Salmon Arm's time…"
Money was left for some operating room renovations but all other complementary projects were cancelled. Those included all the components of the original OR Redesign Project – the critical care space, the medical device reprocessing or sterilization unit, and the ambulatory care space designed to accommodate people who are suitable for "lumps and bumps type surgery," keeping them out of the expensive operating rooms.
More negotiations occurred, leading to what McKee called the new Site Utilization Plan. However, he said they were told it would take three to five years to complete.
"In our world, that means maybe never, and we haven't really got our arms around how we're really going to get through those next three to five years."
The ICU
McKee included a photo of the ICU in Salmon Arm taken a week prior.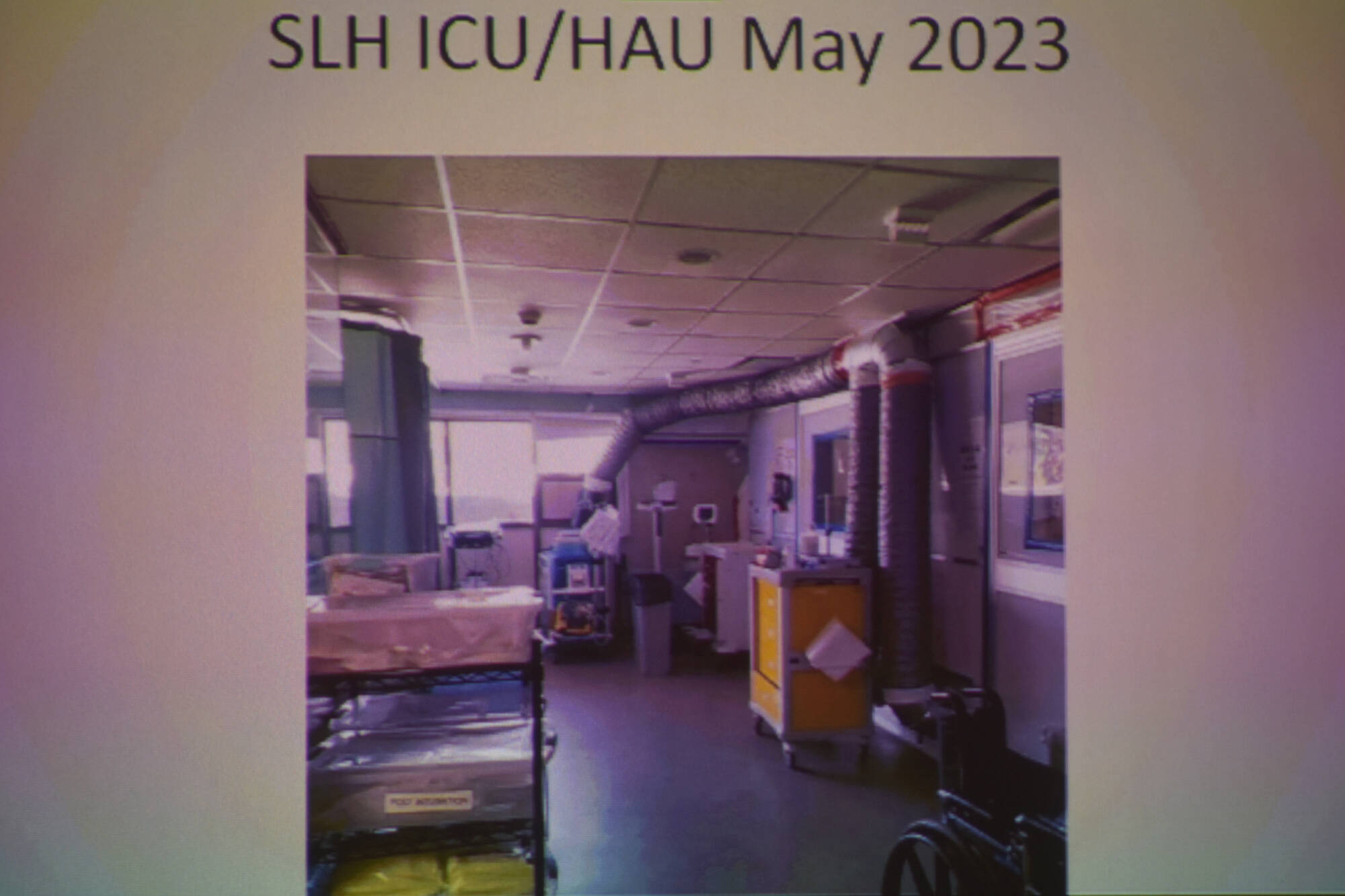 It's a three-bed unit, with two beds on one side and a third bed behind a curtain on the other. There's patchwork duct taping on the plastic walls and the plastic doors. He said vents were rigged up at the time of Covid to create a pseudo negative pressure space that vents outside the window on top of the emergency room bay.
"It's an archaic failing space," McKee described the unit, adding the hospital is also a site for the UBC internal medicine training program. He said the Salmon Arm program is at risk because the hospital can no longer really accommodate the trainees with a functional working space.
"So this speaks to the need for the structural modernization of this ICU space that has really been untouched since maybe the '80s."
McKee said critical care is now sometimes carried out in other parts of the hospital such as emergency rooms with critical-care facilities, or the recovery room, which can mean mismatched skill sets in terms of medical staff.
"Emergency department backlogs speak for themselves. We have 14 beds at the best of times in our ER. Many days we will have nine or 10 or 13 of them filled with admitted patients. Many of them are ward patients, but sometimes they're critical- care patients that need hour-by-hour monitoring and intervention."
Salmon Arm sometimes must transfer critical-care patients to larger hospitals if it can't manage them.
"They tie up a bed in Kelowna and they still wait three or four days for their procedure in an ICU or a step-down bed in a tertiary hospital. That's not good for anybody."
He said there is no simple solution with an aging building and skyrocketing construction costs.
"There's not a revolution here, there's not a magical solution we're going to snap out of the sky…
"We've been complaining just long enough and just loudly enough lately, that everyone has visited our campus. They understand what we're up against. We have letters of support from other regional partners. But we need to find a way to get Salmon Arm out of the danger zone… before we irretrievably lose these services or something happens to our ICU… and it'll close and we won't have anything to do but wait for many more years and then hope that we can recover the staffing resources that we need."
Allison Howatt, chief of staff at SLGH, added what she described as clarifications to McKee's presentation.
She said there is still a master plan and a secondary plan.
"Nothing was cancelled, but nothing was approved. So we didn't have anything taken away, we were just never given anything we thought we were going to get," she said.
"We have a set amount of money to do something at Shuswap Lake. It was not enough to cover all the things we had wanted. That's why the project got skinnied down to just the surgical redesign. And that project is underway, albeit slowly, but it's underway. With the hope that those renovations will start in the fall of 2024. But we're in the planning stage."
Howatt said the HAU (ICU) is a priority, "but our entire hospital space allocation is an issue. We have way more things we need to do with our space than we have space to do it. That's the huge issue."
"There are many services that are at a tipping point, as they are all across IH," she said. "Our maternity services are grossly underfunded and they're at a tipping point. Our emergency services, in terms of our person power for both nursing and staff and ER docs, is at a tipping point.
"If we don't get any improvements to our site, then it becomes less and less easy to attract people to come to Salmon Arm despite it being a pretty nice place to live."
Howatt also pointed to inequities in funding for SLGH.
The hospital is funded for the Salmon Arm community, but she estimated that 50 per cent, if not more, of patients from Enderby come to Salmon Arm. However, Enderby is 100 per cent funded to receive health care in Vernon.
She also pointed out that Salmon Arm has a "very robust group of family doctors" who look after patients from Enderby, Armstrong, Kamloops, Chase and other areas, yet the financial support goes to bigger hospitals in Vernon or Kamloops.
Coun. Kevin Flynn said Salmon Arm council reps on the Columbia Shuswap Regional District board go twice a year to the North Okanagan Columbia Shuswap Regional Hospital District board meeting. He said they "get told our taxpayers as a group will pay 40 per cent of this, this, this, this and this. And I've been here 18 years and I've felt that that process is a rubber stamp and I really appreciate you saying that we need to be more vigilant…
"I think we as a council need to figure out what our steps are. I think we as a hospital district need to figure out what our next steps are…"
"That tower in Vernon, the two extra rooms, the psych ward being talked about in Vernon, I can't argue that those aren't important to all of us, but I can argue that Shuswap Lake has been under-served…"
"
Flynn also noted that city taxpayers will see a hospital district tax on their city tax notices. That goes to the province and Ministry of Health, not the city. He said any hospital improvements in the regional hospital district are funded 40 per cent by the hospital district.
In response to council questions, McKee remarked: "We're not proposing that we march on the streets or have a special save-the-hospital day… We're all trying to stay away from drama and hyperbole. These are practical real-world problems. There are hard-working people on both sides of the coin. We need to work together and find a way to help them keep our particular hospital afloat. We're not talking about an expansion or growth or some new unit. We're just trying to maintain a quality service and hope that it grows from there as the community grows as well."
Coun. Tim Lavery outlined how Dr. McKee approached him, Mayor Alan Harrison and Coun. Flynn just after the election. They had further meetings with MLA Greg Kyllo, SLGH administration and Interior Health. However, it was too late as the regional hospital district had its budget meetings early in the year.
"The issue has been raised with them; the criticism is that folks thought there was a plan. Medical staff thought there was a plan to proceed, it was taken off the table and no one knew."
Lavery said McKee has highlighted "incredibly well that the ability to retain the service, to retain and attract staffing is at a critical level. He would not be here without that."
Lavery termed it a regional issue and asked that McKee take his presentation to the Columbia Shuswap Regional District (CSRD), which Flynn chairs. He noted that while the regional hospital district is not just the CSRD, "we're hearing loud and clear a message about prioritization for here, and we need to advocate on that."
Mayor Alan Harrison began his comments by saying he hears all the time from residents how much they value the human care and compassion they receive at the hospital – and the discussion is not about that but about physical structure.
Both he and Lavery thanked McKee for his courage in bringing the issues forward.
"It seems to me that the North Okanagan regional hospital board doesn't work. That process doesn't work for us," Harrison said, emphasizing meaningful input isn't happening.
Harrison said while there is a lot of talk about plans, "you have to have a financial plan to pay for the result of the plan. And that part seems to be missing."
He said council needs to become more vigilant.
"We've lost faith in the process of the system bringing capital improvement to our hospital. The best way to make that happen is to make residents aware."
---
martha.wickett@saobserver.net
Like us on Facebook and follow us on Twitter
and subscribe to our daily
newsletter
.