UPDATE: 7: 45 p.m.
BC Wildfire is reporting the Clarke Creek blaze in Lake Country is still 174 hectares in size.
"Visibility has been challenging and limited our ability to get an updated aerial track at this time. Direct response for protection and defence of properties and critical infrastructure is the priority at this time," stated BC Wildfire.
There were 12 helicopters on-site during the day.
Central Okanagan Emergency is also warning residents not to fly drones in wildfire affected areas.
Anyone found interfering with wildfire control efforts (including flying drones or UAVs) can face penalties of up to $100,000 and/or up to one year in jail.
The operation of any aircraft not associated with fire suppression activities, including drones and uncrewed aerial vehicles (UAVs), near a wildfire is illegal. It also poses a serious threat to the safety of firefighting personnel. Learn more https://t.co/g2POKIW9G0 pic.twitter.com/ckzzjzuDVq

— Central Ok Emergency (@CO_Emerg) August 20, 2023
_________
UPDATE: 2:32 p.m.
An evacuation alert has been issued for properties in Lake Country.
Properties affected by the evacuation alert include:
All properties west of Highway 97, south of Okanagan Center Rd E and Oceola Rd to the existing Evacuation Order boundary
Residents on evacuation alert should be ready to leave their properties at any time. The following properties remain on evacuation order:
9751 Chase Rd (portion)
9891 Chase Rd
9851 Chase Rd
9767 Chase Rd
A detailed map is available showing affected properties at cordemergency.ca.
Residents under evacuation alert should pre-register on the provincial Emergency Supports Services website ahead of time. Residents who are out of their homes can register online or report to the reception centre to receive any assistance.
A public information line is available at 250-469-8490 (local) or 1-877-569-8490 (toll-free)
UPDATE: 1:45 p.m.
Lake Country Mayor Blair Ireland confirmed during that structures have been lost in Okanagan Centre.
"We cannot get into the details," said Ireland. "We will try and inform people as soon as we can about the structures that have been affected. We urge them to be patient."
While ground crews are battling the blaze, aerial crews are as well and they collect water from nearby bodies of water, including Okanagan Lake. Ireland stated many people are stopping in Lake Country to get a look at the wildfires both on the ground and in the water.
"We have a lot of boat traffic," he said. "I personally witnessed the RCMP chasing yachts away that were cruising up and down this morning. It's very frustrating they have to deal with that sort of thing."
UPDATE 1:25 p.m.
BC Wildfire Services has yet to provide an update on the size of the Clarke Creek fire because of the thick smoke in the area.
Visibility is difficult on the area, making it tough for crews to collect a new estimated size. For now, it remains at 769 hectares.
It's unknown if any structures have been lost in the Okanagan Centre area along Okanagan Lake.
Grey Monk Winery is still standing.
The Lake Country Chevron gas station at the corner of Highway 97 and Glenmore is closed.
UPDATE 11:45 a.m.
Aerial support is back in the smoky Lake Country skies on Saturday to help crews attack the Clarke Creek wildfire.
BC Wildfire Services is yet to provide an update on the size of the fire because smoke is limited visibility to track the blaze.
According to a Black Press reporter on scene, all roads to Jack Seaton Park are currently blocked by the RCMP because of the evacuation orders.
Original
A local state of emergency was declared Friday evening for the District of Lake Country, as residents were forced from their homes as the Clarke Creek wildfire continued to burn.
As of Saturday morning, all evacuation alerts and orders remain the same for the McKinley Landing and Okanagan Centre areas.
It is believed that fire activity increased throughout the night and into this morning but the blaze remains on the west side of Glenmore Road. At this time, it's unknown if any structures were affected in the Okanagan Centre area, next to Okanagan Lake.
The blaze remains out of control and is standing at 174 hectares, according to BC Wildfire Services.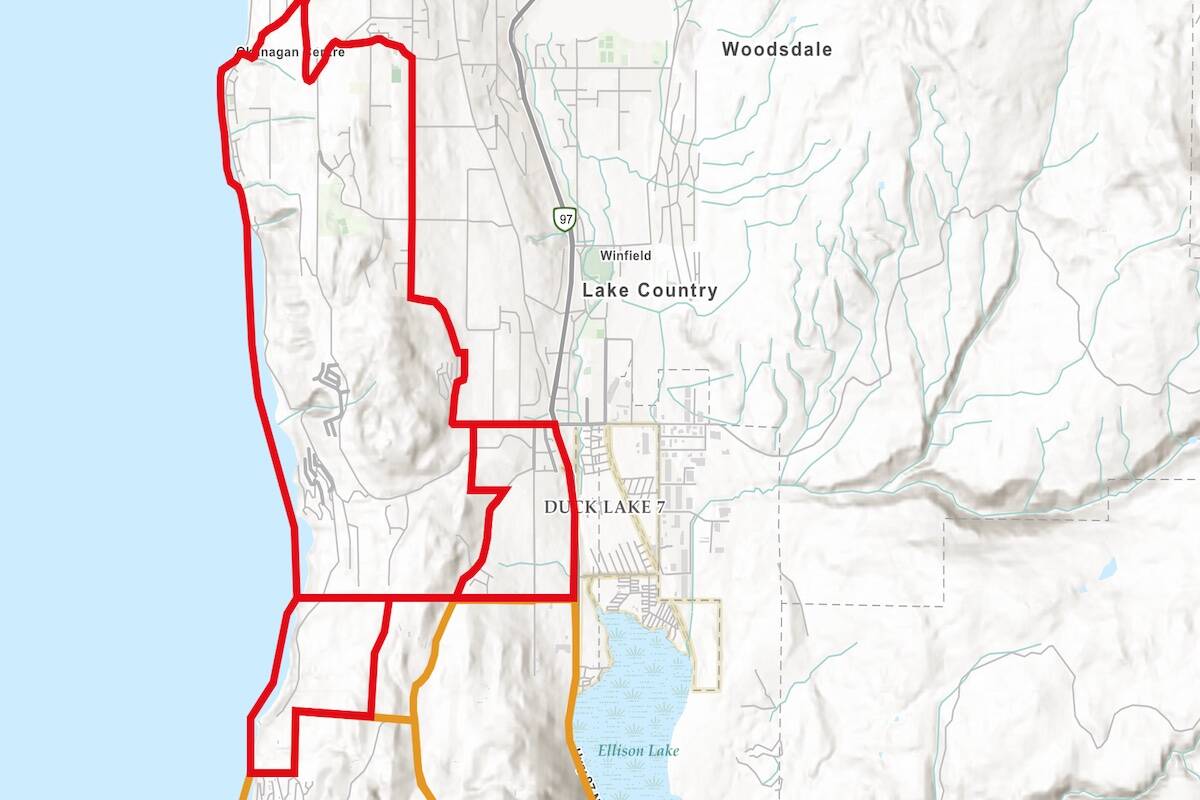 All evacuation orders and alerts can be found on the Central Okanagan Emergency Operations website.
Both the District of Lake Country and the provincial government have issued a state of emergency.
Residents, unless they are evacuated, or require emergency or essential travel, are asked to stay off roads to keep them clear for emergency response.
Black Press Media will keep up to date throughout the day.
---
@cunninghamjordy
jordy.cunningham@kelownacapnews.com
Like us on Facebook and follow us on Twitter and subscribe to our daily and subscribe to our daily newsletter.