Update 12:50 p.m.
Highway 97 southbound has reopened.
✅ CLEAR #BCHwy97 - Vehicle incident has cleared the southbound side of the highway at Airport way. #Kelowna #VernonBC

— DriveBC (@DriveBC) June 1, 2023
Update 11:30 a.m.
Highway 97 southbound from University Way to Hereron Road will continue to be closed until 2:30, according to DriveBC.
The Kelowna RCMP is continuing their investigation.
Update 9:10 a.m.
The Kelowna RCMP have confirmed to Capital News that a single vehicle crash took place at 11:50 p.m. Wednesday southbound on Highway 97 just past the John Hindle Drive overpass.
At 11:45 p.m., an officer on patrol noticed a black Mercedes travelling under the posted speed limit and unable to stay in one lane travelling southbound. When the officer attempted to stop the vehicle, the driver sped away. For the officer's and for the public safety, the officer didn't pursue the vehicle.
The driver fled at a high rate of speed when they crashed into the barrier and were found a significant distance from the highway. The officer found the car had crashed as he continued driving and noticed a large cloud of dust near the overpass and debris by the highway barriers. When the car was found, it went over an embankment and into a ditch past the Okanagan Rail Trail.
The driver was found to be impaired, according to the RCMP.
Emergency crews found the driver trapped in the vehicle. There was also a passenger who got thrown out of the vehicle during the crash. Both sustained serious injures and are currently in stable condition at Kelowna General Hospital receiving treatment. The passenger's injuries are more significant.
"This collision is a prime example of the dangers of excessive speeding on British Columbia roadways," said Kelowna RCMP Media Relations Officer Cst. Mike Della-Paolera. "These two individuals are extremely lucky to have survived and have a long, difficult recovery ahead."
According to DriveBC, the southbound lanes of Highway 97 from University Way to Hereron Road will remain closed until 11:30 a.m. and an estimated time of opening is not available. The RCMP's Collision and Reconstructionist Service (CARS) is completing their inital investigation.
Original
Highway 97 is closed southbound near Kelowna International Airport due to a vehicle incident.
The highway is shut down between the exit ramp to UBC Okanagan (University Way) and Sexsmith Road. There are few details available, however, emergency crews are on the scene.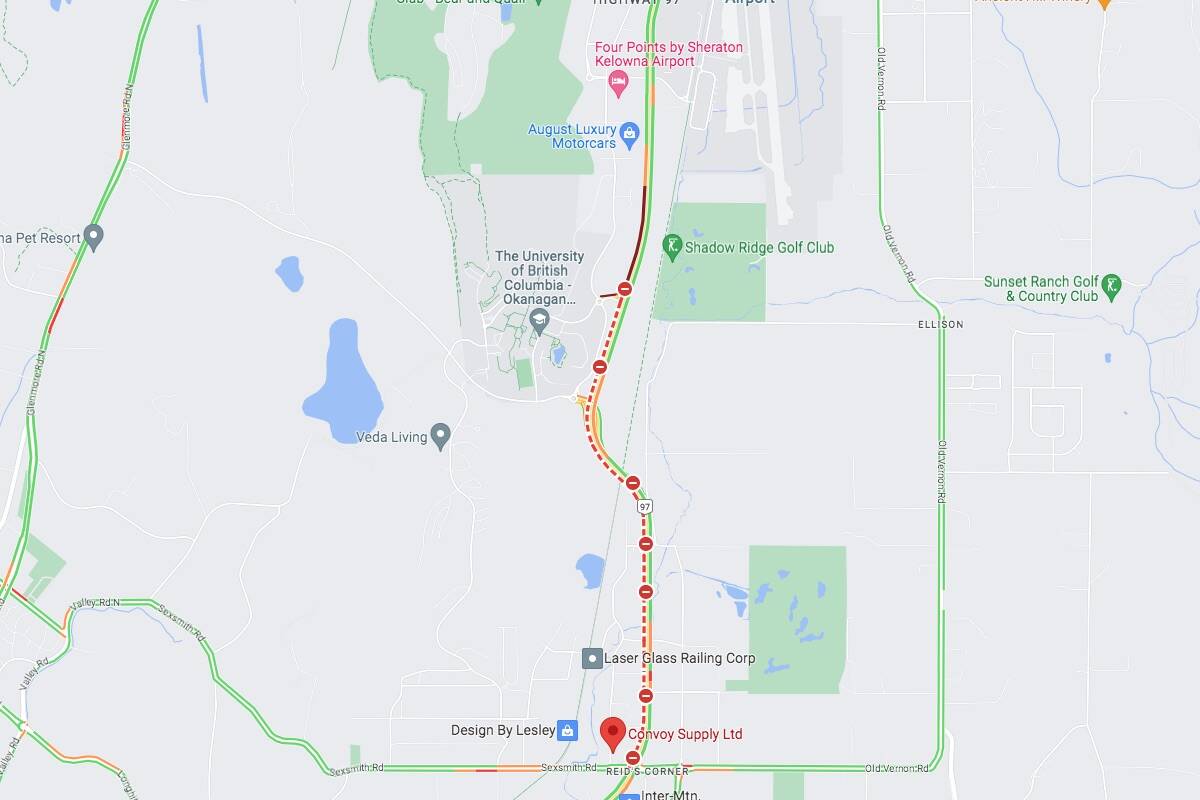 DriveBC advises motorists that a detour is in effect and to watch for traffic control in the area.
Capital News will have more information as it becomes available.
---
@GaryBarnes109
gary.barnes@kelownacapnews.com
Like us on Facebook and follow us on Twitter and subscribe to our daily and subscribe to our daily newsletter.